The fast growing development of Jaco, and the fact that it became too crowded for the visiting tourists and retirees, have created a mass demand for close by spaces, which still offer the true sense of living in Cost Rica. The Punta Mala Resort property area answers these on growing needs. It offers the proximity to Jaco, yet distinguishes itself from it by offering the green areas, the outdoor space, and the serenity needed.
Other American developers have discovered the real estate opportunity and purchased adjacent properties to Punta Mala Resort. Their plans include low –density residential projects, 18-hole gulf course, and a near bye international airport for private jets.
Having all that in mind, the area of the Punta Mala Resort Resort presents a great investment opportunity, and will eventually become part of a larger scale developing area.
Major Residential Projects, Costa Rica
There are currently six major prestigious residential developments in Costa Rica:  
ƒ Los Sueños Resort, Puntarenas 
ƒ Cabo Caletas, Puntarenas
ƒ St. Regis Residences, Puntarenas
ƒ Peninsula Papagayo, Guanacaste
ƒ Hacienda Pinilla, Guanacaste
ƒ Reserva Conchal, Guanacaste
The St. Regis Residences project is relatively small in terms of number of total units when compared to the other projects; however, it represents a highly successful luxury hotel brand, and is the latest arrival of this kind of project in Costa Rica. 
In addition to the above representative set, there are numerous smaller gated community and condominium projects along Costa Rica's Pacific coast, some of which command comparatively high unit sale prices; however, they lack in development potential. There are also larger projects located further inland from the ocean front, often on hills, offering limited panoramic ocean and mountain views; these are not suitable comparable projects either, as beach frontage continues to be a major factor in securing brand operators and achieving high prices for ​

residential products. These projects generally offer home sites in various sizes and provide some basic amenities. The following pages provide overviews of the Costa Rica's main projects.
Los Sueños | Herradura Beach
Pioneering development of this kind in Costa Rica. 1040 acre master planned community offering estate lots, villas and condominiums, anchored by a Marriott 191 key hotel, a 250 wet slip marina and a 18-hole Ted Robinson golf course
Bay view slopes offering ocean views for many residences. Dark sand, less attractive beach, rarely used by residents.
800 at built out, 50% currently built
$300-700/SF incl. resales Prices originally started at $150/SF
Since 1999, mostly sold out, 12 new units available in current phase Average absorption 4.2/month since sales start (currently approx. 1.3/month)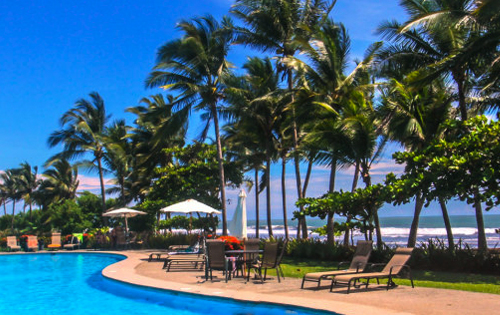 Los Sueños | Herradura Beach
450 acre master planned community offering home sites and condominiums, featuring an 18-hole McCumber golf course and five star brand hotel (pending)
Versatile hilly landscape. Steep drop to beach offering great views for hotel and ocean front residences. Very little sand beach, mostly volcanic rock. Residents would have to use close by public beach. Site borders a natural reserve.
110 home sites (47 released), 700 condo units (24 released)
Home Sites $100-185/m² Condos $220-250/SF
Since December 2006 (pre-sales) 75% condos – 1.8 /month 51% home sites – 2.3/month
Other Representative Projects - Puntarenas
In addition to the three prime ocean front projects in Puntarenas (Los Sueños, Cabo Caletas and St. Regis), there are various other active master planned community and condominium projects which are targeted at the mid to high scale buyer market and which are indicative of current residential product offering and pricing in the area.
| Project | Location | Type | Description | Price Range | Absorption |
| --- | --- | --- | --- | --- | --- |
| Del Pacifico* | Esterillos, Hillside location | Master planned | 700 acre site along Costanera highway with off site beach club. Project offers sites, condos and custom homes | Sites: $100- 250/m² Condos: $250 | N/A |
| Diamante del Sol | Hermosa Beach | Condominium | 250 units in 5 buildings with 8-10 floors. 1-4 bedroom units | $220-310/SF | 25% sold |
| Hermosa Hills* | Hermosa Beach | Master planned | 230 acre site offering condos and homes | Pre-sale Condos: from $150, Homes: from $300/SF | N/A |
| Joya Pacifica* | Parrita, Quepos Hillside location | Master planned | 350 acre site with 234 home sites in un-gated community with limited infrastructure; on-site clubhouse | $10-35/m² | 40% in six months |
| Los Altos | Manuel Antonio | Condominium | ~70 furnished units in 4 buildings on 21 acres of property with beach access | $220-340/SF | 40% of first two buildings |
| La Reserva | Manuel Antonio | Home sites | 11 acres with 18 home sites under 1 acre each | $75-175/m² | 55% sold |
| Tortuga Landing | Manuel Antonio | Home sites | Rainforest home sites of varying sizes with bay views | ~ $100/m² | N/A |
| Marisol ** | Dominical Hillside location | Condominium | 54 furnished units in 7 buildings; hillside location near beach with ocean views | $200-290/SF | 45% sold (100% of first phase) |
| Nativa Resort | Borders Carara National Park Hillside location* | Master planned | 262 acres; 605 units at build out, currently 45 home sites and 124 condominiums; boutique hotel planned | Sites: $110/m² Condos: $150- 340/SF | Nativa Resort |
| Tesoro | Palo Seco Beach | Condominium | 54 units in townhome style buildings; beachfront location | $163-315/SF | 40% sold |