The Hatillo Dominical site is located on Playa Hatillo, approximately 5 miles (8km) north of Dominical, and 25 miles (40km) south of Quepos and Manuel Antonio, right on the Costanera (Coastal) highway. There are currently two routes on which Hatillo Dominical can be reached by car :
the driving time from San Jose to the site via Jaco is approximately 4 hours, 2 of which are from San Jose to Jaco). The two lane road is paved as far as Quepos/Manuel Antonio. After Quepos, the road is unpaved, but it poses no challenge to SUVs. A concession to build a direct highway (all the bridges have already been built) has been granted to a European/Costa Rican company. The construction of this highway will be completed in the near future and will save travelers up to one hour on their trip to Jaco. In addition, the unpaved road from Quepos to Dominical is being gradually paved; at the end of all road improvement projects, the drive Hatillo site will take a little over two and a half hours.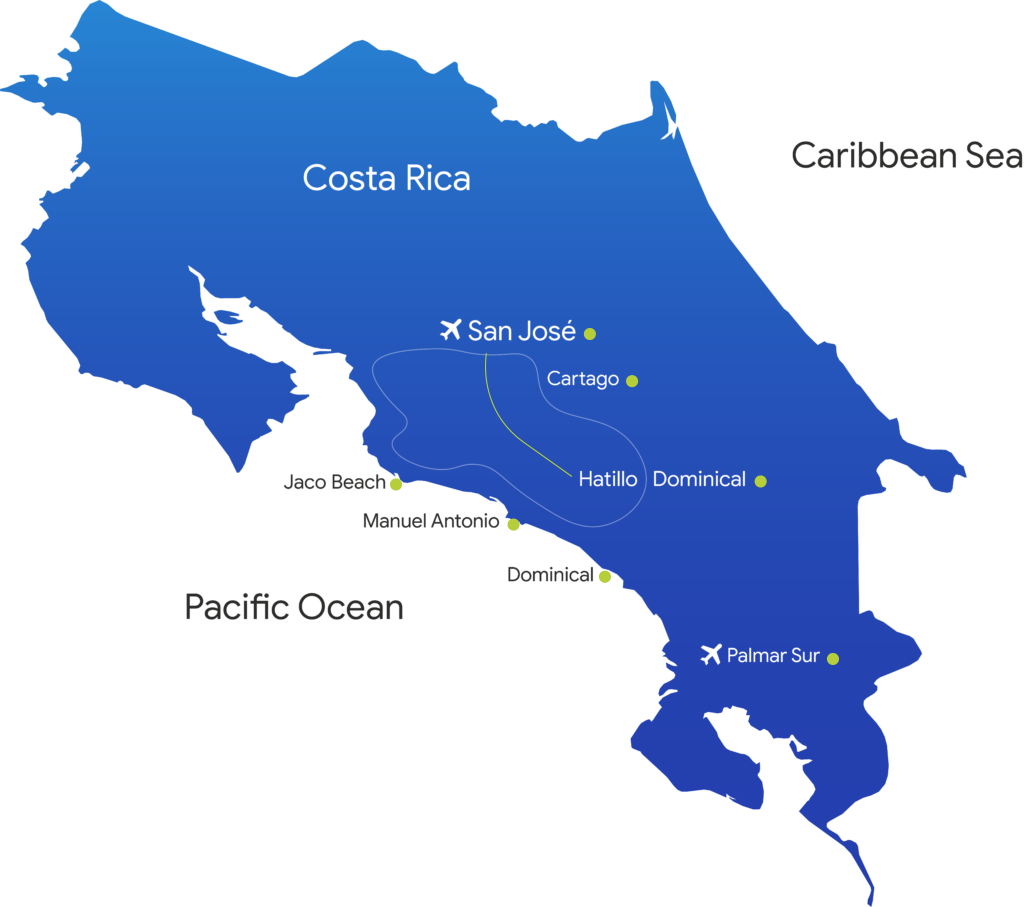 the route via Cartago takes approximately 3 hours, most of which along the country's main highway, Panamericana. The two lane road is paved as far as Dominical. Both routes are scenic and interesting, offering numerous resting and eating opportunities along the way. At present, the national air shuttle service Sansa Air is servicing the Palmar Sur airport, which is about one and a half hours driving distance south of Dominical. This gives visitors also the option to fly into Palmar Sur and then drive up. Currently, there are plans to upgrade the Palma Sur local airport into an international airport in order to accommodate tourist visiting the south of the country. This upgrade will also encourage the expansion of rental car operations, shuttle buses and taxis for the area.
The Hatillo Dominical site is comprised of two large lots which are divided by a winding river. The site runs along the existing Costanera highway, which makes it easily accessible. The majority of the site consists of relatively even and solid ground which absorbs rain water rapidly. The larger site on the south side of the river has a small but relatively high forested elevation at its highway end which offers a beautiful panoramic view over the site and the ocean. The mountains are visible from virtually anywhere within the site. In addition, certain areas of the site offer river or ocean views. The Hatillo river, which flows calmly, and which carries clean, clear water, pours into the ocean at the west end of the site. The vast breathtaking beach consists of fine sand, and the ocean offers good swimming and water sports conditions. The vegetation on the site is versatile; from rainforest on the elevation to dry forest along the river to palm trees along the beach shore