Resort-residential products are an increasingly dominant component of the resort development projects in Central America and the Caribbean today due to the convergence of two factors. The first is investment driven while the second is consumer driven.
From an investor's perspective, resort-residential projects generally provide quicker and higher return on capital compared with stand-alone hotel projects. From a consumer perspective, the resort-residential concept provides the type of personalized and exclusive resort experience preferred by consumers of luxury goods and services. In addition, a resortresidence is viewed as an investment vehicle also from the consumer's perspective.
High End Residential Project Criteria
While no two resort-residential developments are alike, certain characteristics are common to luxury residential resort communities, specifically :
Luxury Destinations – Characterized by low density development, upscale tourism offerings, and considerably higher average spending per visitor compared to mass tourism destinations.
Low Density Development Program – offers an exclusive lifestyle, maximum privacy, ample green areas, pristine beach frontage, and attractive views.
Anchor Brand – Constitutes a value driver for the residential product and establishes the overall identity of the project. The most common type of anchor is a branded lodging component; however, other forms of anchor branding are increasingly common including a signature golf course, spa, club operator and food and beverage operator.
Cross-Border Residential Sales and Marketing – Provides access to a world-wide pool of qualified buyers.
Professional Property Management – Ensures that the lifestyle promoted by the developer, and property values are maintained.
Major Residential Projects, Costa Rica
There are currently six major prestigious residential developments in Costa Rica:  
ƒ Los Sueños Resort, Puntarenas 
ƒ Cabo Caletas, Puntarenas
ƒ St. Regis Residences, Puntarenas
ƒ Peninsula Papagayo, Guanacaste
ƒ Hacienda Pinilla, Guanacaste
ƒ Reserva Conchal, Guanacaste
The St. Regis Residences project is relatively small in terms of number of total units when compared to the other projects; however, it represents a highly successful luxury hotel brand, and is the latest arrival of this kind of project in Costa Rica. 
In addition to the above representative set, there are numerous smaller gated community and condominium projects along Costa Rica's Pacific coast, some of which command comparatively high unit sale prices; however, they lack in development potential. There are also larger projects located further inland from the ocean front, often on hills, offering limited panoramic ocean and mountain views; these are not suitable comparable projects either, as beach frontage continues to be a major factor in securing brand operators and achieving high prices for ​

residential products. These projects generally offer home sites in various sizes and provide some basic amenities. The following pages provide overviews of the Costa Rica's main projects.
Los Sueños | Herradura Beach
Pioneering development of this kind in Costa Rica. 1040 acre master planned community offering estate lots, villas and condominiums, anchored by a Marriott 191 key hotel, a 250 wet slip marina and a 18-hole Ted Robinson golf course
Bay view slopes offering ocean views for many residences. Dark sand, less attractive beach, rarely used by residents.
800 at built out, 50% currently built
$300-700/SF incl. resales Prices originally started at $150/SF
Since 1999, mostly sold out, 12 new units available in current phase Average absorption 4.2/month since sales start (currently approx. 1.3/month)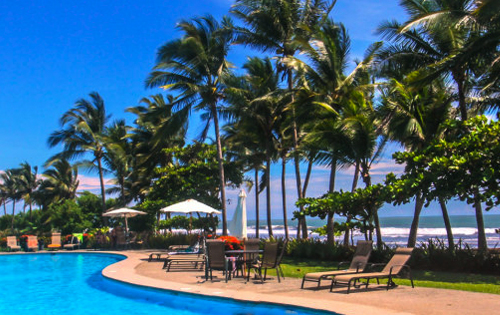 Los Sueños | Herradura Beach
450 acre master planned community offering home sites and condominiums, featuring an 18-hole McCumber golf course and five star brand hotel (pending)
Versatile hilly landscape. Steep drop to beach offering great views for hotel and ocean front residences. Very little sand beach, mostly volcanic rock. Residents would have to use close by public beach. Site borders a natural reserve.
110 home sites (47 released), 700 condo units (24 released)
Home Sites $100-185/m² Condos $220-250/SF
Since December 2006 (pre-sales) 75% condos – 1.8 /month 51% home sites – 2.3/month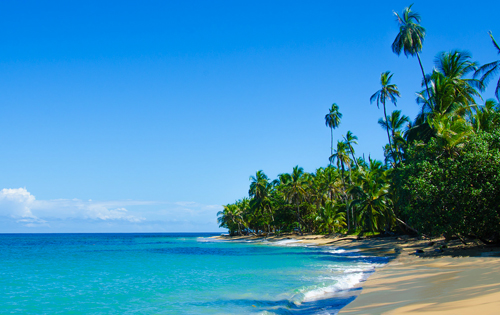 ST. Regis Residences | Hatillo Dominical
250 acre site bordering Los Suenos at the south, offering St. Regis branded 1-3 bedroom condo hotel units and private residences, featuring a Remede spa.
Steeply sloped, amphitheatre shaped private gulf with residences to be built at a relatively high point offering great ocean views to all units. Hiking and golf cart trails to private beach at bottom. Borders a macaw reserve at the north.
133 of which 52 are condo hotel units
$750-900/SF for condo hotel units Private residences will be release at a later date and will not be included in the hotel rental pool.
Since summer 2006 48% sold in pre-sales – 1.7/month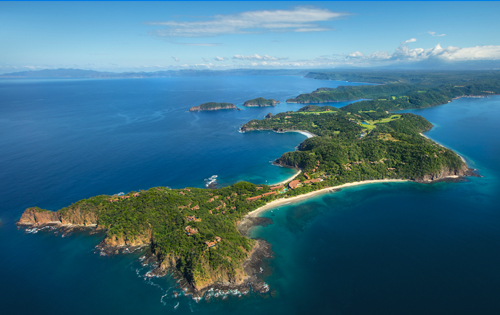 Peninsula Papagayo | Hatillo Dominical
2,300 acres on narrow peninsula with 15 miles of coastline offering various residential products, and featuring a 153 room Four Seasons hotel, 18- hole Arnold Palmer golf course, 18- hole Jack Nicklaus golf course. Project also proposes a 350 slip marina.
Hilly terrain with 31 individual small beaches between rocky drops into the ocean. Offers great views for almost all residences.
At build out, 300 lots, 600 condos, 20 villas, 120 fractional residences
Lots ~$250/m², Condos $680- 860/SF, Villas – $880-1,100/SF
Since 2002 34% estate lots (of total) – 2.5/month 100% villas – 0.75/month 95% fractional residences – 5/month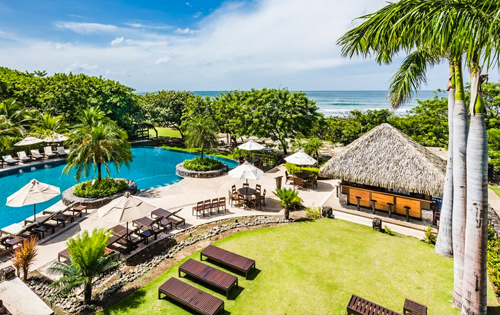 Hacienda Pinilla | Hatillo Dominical
4,500 acres offering various residential products and features an existing small hotel and an 18-hole Mike Young golf course. A 320 room JW Marriott will open in 2008.
Very large, relatively even site offering limited views to residents. Abundant green areas and 6 individual beaches.
347 estate lots, various condominium buildings (54 units built, and third project pending)
Lots $200-680/m² depending on location Single Family homes $280 – 320/SF Condos $210 – 400/SF
95% estate lots 85% condos Current absorption is estimated at 1-2 units/month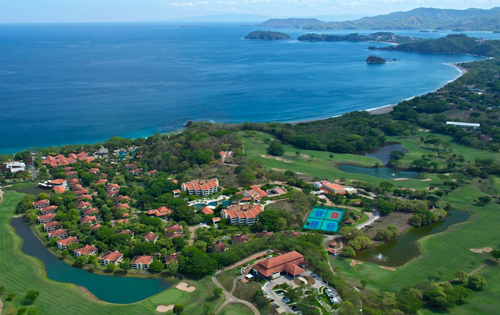 Reserva Conchal | Hatillo Dominical
2,297 acres featuring 302 room Sol Melia operated hotel (Paradisus), and an 18-hole Robert Trent Jones II golf course. A luxury boutique hotel is proposed.
Versatile terrain offering various views and long white sand beach. Site includes 700 acres of preservation area, most of which consists of mangroves.
Proposed at built out, 2200 residential units, 4 hotels, 2 golf courses
Lots $100-500/m² Condos $200 – 480/SF
Released estate lots have sold out Released condo units are 90% sold Current absorption is estimated at 1-2 units/month
Other Representative Projects - Puntarenas
In addition to the three prime ocean front projects in Puntarenas (Los Sueños, Cabo Caletas and St. Regis), there are various other active master planned community and condominium projects which are targeted at the mid to high scale buyer market and which are indicative of current residential product offering and pricing in the area.
| Project | Location | Type | Description | Price Range | Absorption |
| --- | --- | --- | --- | --- | --- |
| Del Pacifico* | Esterillos, Hillside location | Master planned | 700 acre site along Costanera highway with off site beach club. Project offers sites, condos and custom homes | Sites: $100- 250/m² Condos: $250 | N/A |
| Diamante del Sol | Hermosa Beach | Condominium | 250 units in 5 buildings with 8-10 floors. 1-4 bedroom units | $220-310/SF | 25% sold |
| Hermosa Hills* | Hermosa Beach | Master planned | 230 acre site offering condos and homes | Pre-sale Condos: from $150, Homes: from $300/SF | N/A |
| Joya Pacifica* | Parrita, Quepos Hillside location | Master planned | 350 acre site with 234 home sites in un-gated community with limited infrastructure; on-site clubhouse | $10-35/m² | 40% in six months |
| Los Altos | Manuel Antonio | Condominium | ~70 furnished units in 4 buildings on 21 acres of property with beach access | $220-340/SF | 40% of first two buildings |
| La Reserva | Manuel Antonio | Home sites | 11 acres with 18 home sites under 1 acre each | $75-175/m² | 55% sold |
| Tortuga Landing | Manuel Antonio | Home sites | Rainforest home sites of varying sizes with bay views | ~ $100/m² | N/A |
| Marisol ** | Dominical Hillside location | Condominium | 54 furnished units in 7 buildings; hillside location near beach with ocean views | $200-290/SF | 45% sold (100% of first phase) |
| Nativa Resort | Borders Carara National Park Hillside location* | Master planned | 262 acres; 605 units at build out, currently 45 home sites and 124 condominiums; boutique hotel planned | Sites: $110/m² Condos: $150- 340/SF | Nativa Resort |
| Tesoro | Palo Seco Beach | Condominium | 54 units in townhome style buildings; beachfront location | $163-315/SF | 40% sold |
* No beachfront; home sites and condos offer ocean, mountain or nature views (ocean view sites are often limited)
** Properties belong to same development group and are located in relative vicinity to each other, sharing common amenities such as a restaurant, clubhouse with pool, spa and gym
Costa Rica's Central Pacific
Beach front condominiums along the Central Pacific of Costa Rica sell for average prices ranging from $250 to $400 a square foot ($2500 to $4000 per meter). Many beach front condominium projects are selling out up to 80% plus in pre-completion. Current absorption rates for condominium projects average 1 to 2 units per project per month. Condominiums located a 'driving' distance from the beach with no amenities are priced in ranges from $100 to $200 per square foot ($1000 to $2,000 per square meter). Ocean view home sites range from $15 to $30 per square meter. Non-ocean view sites range from $7 to $10 per square meter. The majority of area developments are selling at these ranges for precompleted home site development parcels. Ocean view home sites located within gated communities offering some amenities and/or improved access with completed infrastructure range from prices of $30 to $50 per square meter. Single family home sites located within master planned resort communities range in price upwards from $90 to $300 per square meter. Single family homes located within master planned resort

communities range in the price of $250 to $450 per square foot. Currently the Four Seasons Papagayo Resort and the St. Regis resort are selling residential products at $1,000 per square foot on average.